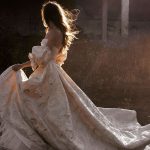 Choosing the Right Fabric for Your Wedding Dress: A Comprehensive Guide
From the delicate drape of silk to the timeless elegance of lace, the fabric you select will determine the comfort, style, and aesthetic of your gown. To help you navigate through the myriad of options, this comprehensive guide will delve into the world of wedding dress fabrics, providing valuable insights and tips to aid you in making an informed choice.
Understanding Different Wedding Dress Fabrics
Silk:
Silk is a beloved and classic fabric choice for wedding dresses, renowned for its luxurious feel and natural sheen. Its lightweight and breathable nature make it incredibly comfortable to wear throughout your special day. Silk can be found in various variations, each with its own unique characteristics. Silk satin, with its smooth and glossy surface, exudes an elegant and refined vibe. On the other hand, silk organza offers a crisp and lightweight texture, perfect for creating dramatic volume and ethereal layers. Silk charmeuse, known for its softness and drapability, adds a touch of fluidity and grace to a gown. Silk fabrics are well-suited for a wide range of wedding dress styles, including ball gowns, A-line silhouettes, and sheath dresses, providing a luxurious and timeless aesthetic.
Lace:
Lace has an enduring allure that adds a sense of romance and femininity to any wedding gown. There are various types of lace to choose from, including the delicate Chantilly lace, the intricate and ornate Alençon lace, and the bold and contemporary Guipure lace. The elegance and intricacy of lace fabric create a stunning visual impact, often featuring delicate floral motifs and intricate patterns. Lace is a versatile choice that can be used for different dress elements, such as the bodice, sleeves, or an overlay. Whether you opt for a subtle hint of lace or an all-over lace design, this fabric is sure to elevate your bridal look with its timeless charm.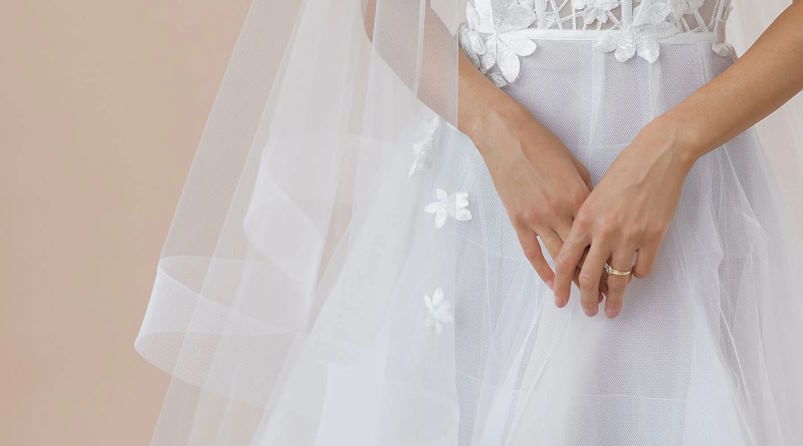 Tulle:
Tulle is a lightweight and versatile fabric that adds a dreamy and ethereal quality to wedding dresses. Its delicate net-like structure creates a soft and romantic silhouette. Tulle is particularly known for its ability to create volume and layers, making it an excellent choice for ball gowns and princess-style dresses. English net tulle, with its slightly stiffer texture, provides a more structured look, while illusion tulle offers a sheer and barely-there effect. With its airy and graceful appeal, tulle fabric can transform a gown into a whimsical masterpiece.
Chiffon:
Chiffon is a soft and flowing fabric that effortlessly drapes and moves with the body. Its lightweight nature makes it an ideal choice for lightweight and destination wedding dresses. Chiffon's delicate and airy texture adds a sense of grace and movement, perfect for beach weddings or outdoor ceremonies. This fabric is known for its ability to create soft gathers, cascading ruffles, and delicate layers. Whether used as an overlay or for the entire gown, chiffon brings an understated elegance and a touch of bohemian allure to your bridal ensemble.
Satin:
Satin is a luxurious and lustrous fabric that exudes opulence and sophistication. Its smooth and shiny surface adds a touch of glamour to wedding dresses, particularly suited for structured and classic styles. Satin fabric is known for its ability to create clean lines and a sleek silhouette, making it an excellent choice for mermaid or trumpet gowns. With its rich texture and elegant drape, satin adds an element of timeless beauty to your bridal look.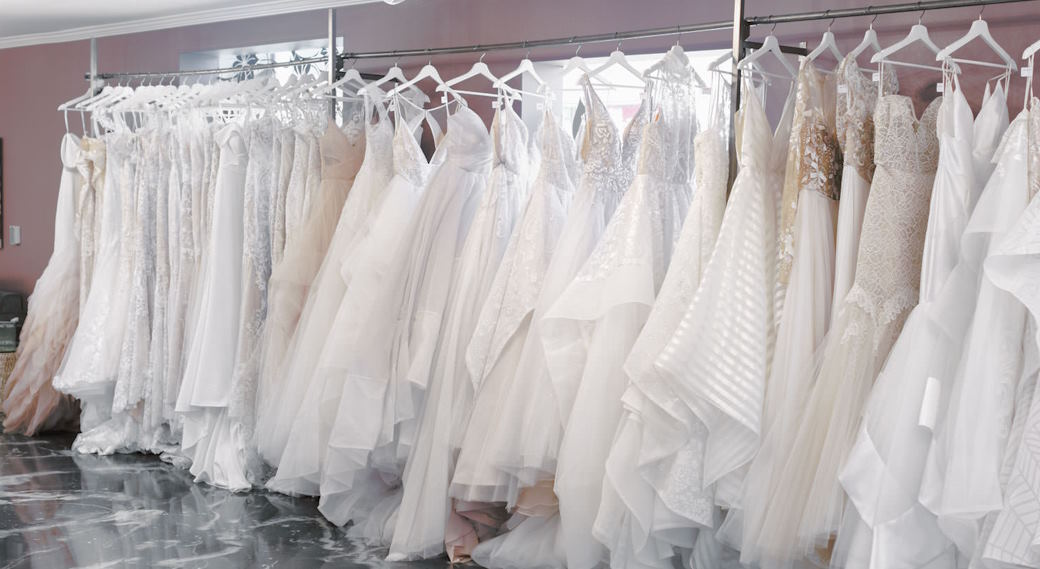 Factors to Consider When Choosing a Fabric
Body type and personal style:
When choosing a fabric for your wedding dress, it's important to consider how different fabrics flatter different body shapes. For instance, if you have a curvier figure, fabrics like silk satin or chiffon can drape beautifully and accentuate your natural curves. On the other hand, lightweight fabrics like organza or tulle can add volume and create a fuller shape for those with a slimmer frame. Beyond body type, consider your personal style and the overall theme of your wedding. If you're aiming for a romantic and bohemian look, delicate lace or flowing chiffon may be the perfect choice. Alternatively, if you prefer a more structured and classic style, satin or silk can lend an air of timeless elegance.
Dress silhouette and design:
The silhouette and design of your wedding dress should also guide your fabric selection. Different fabrics work best with specific silhouettes. For example, a ball gown silhouette can be enhanced by fabrics like tulle or silk organza, which create voluminous skirts and layers. Mermaid or trumpet styles benefit from fabrics that provide structure and shape, such as satin or silk. Additionally, consider the dress design elements you desire, such as ruffles, pleats, or intricate beading. Select fabrics that complement these design elements and allow them to shine.
Budget and maintenance:
Budget considerations play a significant role in fabric selection. Certain fabrics, like high-quality silk or intricate lace, tend to be more expensive than others. Understanding the cost implications of different fabrics will help you make informed decisions within your budget. Additionally, consider fabric maintenance and potential alterations. Some fabrics may require special care or be more prone to wrinkling, while others may be easier to maintain. Be sure to choose a fabric that aligns with your lifestyle and comfort level when it comes to care and potential alterations.