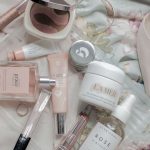 Essential Bridal Beauty Products to Include in Your Wedding Day Emergency Kit
Your wedding day is a culmination of dreams and meticulous planning, where every detail contributes to creating an unforgettable experience. Among the countless preparations, one aspect that deserves special attention is your bridal beauty regimen. While you may have hired professionals to handle your hair and makeup, unforeseen circumstances can arise at any moment. That's where a wedding day emergency kit comes to the rescue.
Makeup Must-Haves
A flawless and long-lasting makeup look is a bride's ultimate goal on her wedding day. To achieve this, having the right makeup products in your emergency kit is crucial. Let's explore the must-haves that will keep you looking stunning from the first step down the aisle to the final dance at the reception.
Primer: A good primer is the foundation for a smooth and long-lasting makeup application. It creates a smooth canvas for your foundation, helps blur imperfections, and ensures that your makeup stays put throughout the day.
Foundation and Concealer: To achieve a flawless complexion, opt for a foundation that matches your skin tone and offers the desired coverage. Pair it with a reliable concealer to hide any blemishes or dark circles, ensuring that your skin looks flawless and radiant.
Setting Powder: Shine can be a bride's worst enemy, especially in photos. A setting powder helps control shine and keeps your makeup in place, preventing any unwanted oily patches from appearing throughout the day.
Blush, Bronzer, and Highlighter: These three products work together to create a radiant and sculpted look. Blush adds a natural flush of color to your cheeks, bronzer brings warmth and definition to your face, and highlighter adds a luminous glow to your cheekbones, brow bone, and cupid's bow.
Eyeshadow Palette and Eyeliner: Accentuating your eyes is essential on your big day. An eyeshadow palette with a range of colors and finishes allows you to create a variety of looks, from soft and romantic to bold and dramatic. Complement it with a long-wearing eyeliner for perfectly defined eyes.

Haircare Essentials
Your wedding day is a whirlwind of excitement, and your hair plays a vital role in completing your bridal look. To ensure that your hairstyle remains flawless from the moment you say "I do" until the last dance, it's important to have the right haircare essentials in your emergency kit. Let's explore the must-have products that will keep your tresses looking picture-perfect throughout the day.
Hairspray and Hairpins: Hairspray is a bride's best friend when it comes to securing and preserving the hairstyle. Opt for a strong-hold formula that will keep every strand in place, no matter how windy or energetic the celebration gets. Additionally, keep a stash of hairpins on hand to secure any loose strands or unexpected mishaps that may arise.
Hairbrush or Comb: A compact hairbrush or comb is essential for quick touch-ups throughout the day. Use it to tame any stray hairs and keep your hairstyle looking polished and neat.
Dry Shampoo: A bride's hair should always look fresh and voluminous. Dry shampoo is a lifesaver for refreshing your locks, absorbing excess oil, and adding instant volume when needed. It's the perfect solution for a quick hair pick-me-up between the ceremony and reception.
Hair Serum or Oil: To add shine, control frizz, and enhance the overall luster of your hair, a hair serum or oil is a must-have. Apply a small amount to the ends of your hair to keep it looking healthy and radiant throughout the day.
Hair Ties and Bobby Pins: Unexpected emergencies happen, and having extra hair ties and bobby pins in your emergency kit can save the day. Whether you need to quickly change your hairstyle or secure a loose bun or updo, these handy accessories will be your saviors.

Nail Care Products
Your wedding day is a time when every detail matters, right down to your nails. From exchanging rings to capturing close-up shots of your hands, your nails will be in the spotlight. To ensure that your nails look their absolute best, it's important to include the right nail care products in your wedding day emergency kit. Let's dive into the essential items that will keep your nails flawless and photo-ready throughout the celebration.
Nail Polish and Topcoat: Nail polish adds the perfect finishing touch to your bridal look. Choose a color that complements your overall theme and outfit. Pack a small bottle of your chosen nail polish and a topcoat for quick touch-ups or emergency fixes in case of any chips or smudges.
Nail File and Buffer: Shaping and smoothing your nails is an essential part of nail care. A nail file will help you achieve the desired shape and length, while a buffer can smooth out any ridges, leaving your nails looking flawless and polished.
Cuticle Oil: Nourished and healthy-looking cuticles can make a significant difference in the appearance of your nails. Apply a small amount of cuticle oil to hydrate and soften your cuticles, giving your nails a neat and groomed appearance.
Nail Glue: Despite your best efforts, accidents can happen, and a broken nail can be a source of stress. Nail glue can come to the rescue in such situations, allowing you to quickly fix any broken nails and prevent further damage.